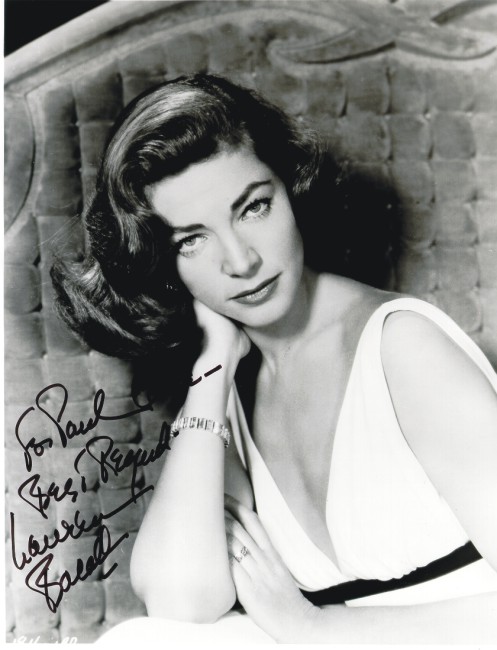 Lauren Bacall

(born September 16, 1924) is an American film and stage actress and model.

Known for her husky voice and sultry looks, she became a fashion icon in the 1940s and has continued acting to the present day. Bacall is perhaps best known for being a film noir leading lady in films
.
Bacall was born Betty Joan Perske in New York City, the only child of Natalie,

a secretary, and William Perske, who worked in sales.

Her first cousin is former Prime Minister and current President of Israel Shimon Peres.






Her parents divorced when she was five. She took her mother's name Bacall when her parents divorced. Bacall no longer saw her father and formed a bond with her mother, whom she took with her to California when she became a movie star.
Bacall studied acting for 13 years, taking lessons at the American Academy of Dramatic Arts. D

uring this time, she became a theatre usher and worked as a fashion model

. As Betty Bacall, she made her acting debut on Broadway in 1942, in Johnny 2 X 4.
Bacall became a part-time fashion model.

Howard Hawks's wife Nancy spotted her on the March 1943 cover of Harper's Bazaar and urged Hawks to have her take a screen test. Hawks invited Bacall to Hollywood for the audition. He signed her up to a seven-year personal contract, brought her to Hollywood, gave her $100 a week, and began to manage her career. Hawks changed her name to Lauren Bacall. Nancy Hawks took Bacall under her wing. She dressed Bacall stylishly, and guided the newcomer in matters of elegance, manners, and taste. Bacall's voice was trained to be lower, more masculine, and sexier, which resulted in one of the most distinctive voices in Hollywood. In the movie, Bacall even takes on Nancy's nickname "Slim".

Lauren Bacall